Morel mushrooms begin to grow at the beginning of spring when winter is over. The best time to collect morel mushrooms is during the day when the daytime air temperature is between 60-65 degrees and the evening is air is around 40-50 degrees.
Note: If you click some of the links or pictures in this article we may earn a small commission at no additional cost to you.
What Month is Best for Morel Mushrooms?
Morels start to grow at the onset of April and they continue to flourish until June. Some morel mushrooms can persist after June, but this is the exception rather than the rule. 
However, morel that continues to grow late can exhibit some deformities, especially morels growing under high temperatures. Soil temperature must be above 50 degrees for the development of Morel mushrooms, but any higher than 65 and they will not grow properly.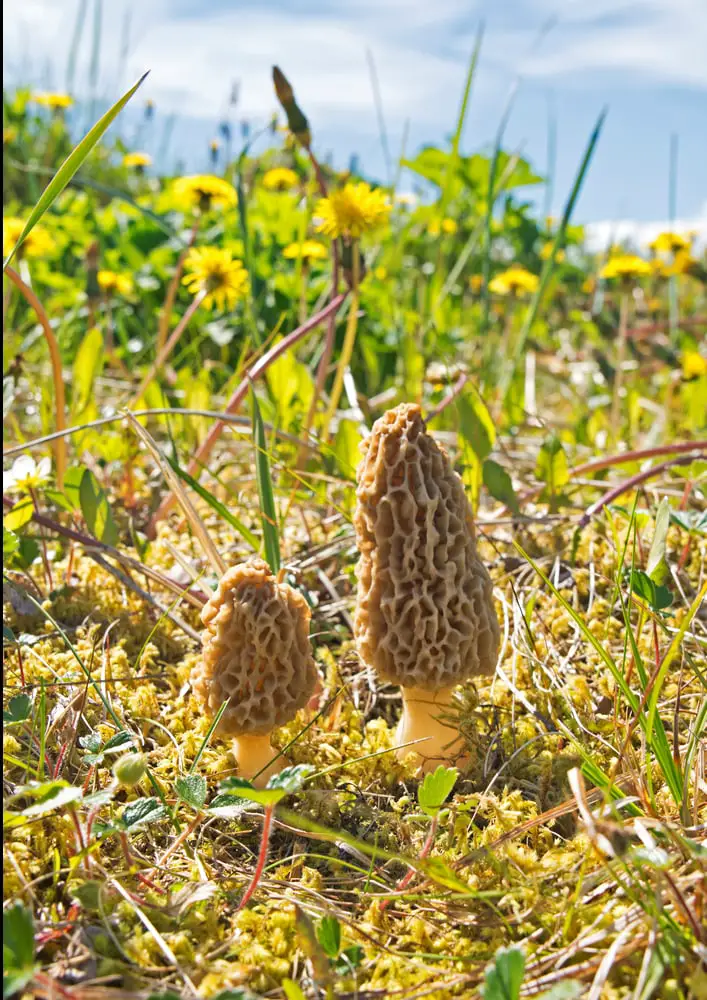 What Are The Conditions for a Good Morel Season?
The best conditions for the growth of morels are primarily concerned with climate and weather. When the snow has melted and the snow sediments have traveled from the mountain tops and settled into the soil below, morels flourish.
Morels especially avoid dry areas. Moisture is the most necessary thing for the growth of morels since they are mostly water.
Heavy rains and moist air create an excellent growth environment for morels. In addition, morels tend to grow in shady and cool places. 
In order for morels to grow, the air temperatures should not be too variable and should remain at a constant temperature.  Morels will experience their most productive season when the necessary climatic conditions are met. 
Fire morels appear after forest fires, feeding off the carbonized remains of dead animals and plant life. If a forest fire broke out in one season, you'll probably be able to see plenty of morels there next season.
Where Are The Best Places to Find Morels?
You can find morels in woodlands and apple orchards, and among wood chips at the edges of tree areas, and growing on dead trees, and feeding off plants. 
Also, morels love places where trees and plants have recently been burned. The soils that morels like are generally black and soil types that contain plenty of minerals. 
Morels can also be seen in the grasses by the side of stream banks. This is a great spot for morels to grow because it is close to water and streams provide plenty of minerals to the soil.
At the same time, it is possible to come across morels on the sides of the melting snow masses on the slopes of the mountains, but it is very difficult to find mushrooms in such places as they are difficult to access.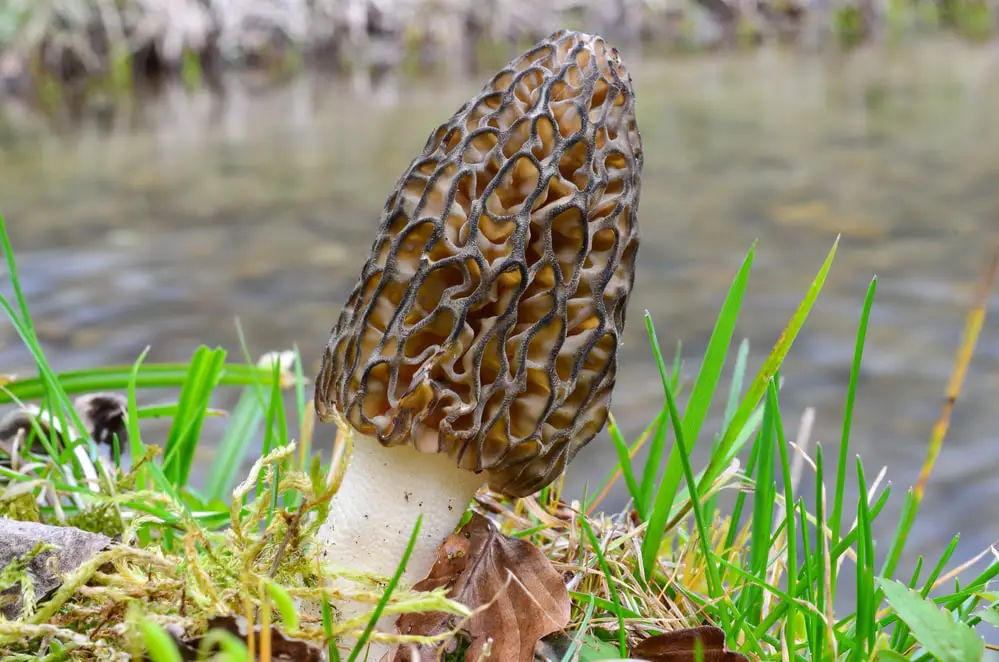 What Should I Bring With Me On a Mushroom Hunt?
Compass 
One of the most important tools that you should have with you on a morel hunt is the compass. 
Knowing where to go while hunting is essential and prevents you from accidentally stumbling across the same spots.
If we also consider the possibility of losing your way in the forest depths, a compass is a potentially life-saving tool if your electronics lose battery or are damaged.
GPS Tracking
One of the must-haves next to your compass is GPS. Thanks to GPS, no matter how much you wander, you can easily get back to where you started. 
This saves you time and helps you to map out the best morel spots to remember for the following year.
Knit Bag 
The necessity of a knit bag is to let the spores spill out as you collect the mushrooms. Knit bags help spread the spores across the forest floor as you walk with them.
By doing this, you will have taken steps to prepare the forest for harvest in the coming years and to ensure the continuity of the fungus generation. Also, a mesh bag is always better than an airtight plastic bag.
Knit bags are more environmentally friendly, and they keep the morels at an ideal temperature.
Walking Stick
The walking stick should never be overlooked when mushroom hunting, no matter what age you are. 
After a while when you get tired of walking, you can lean on your walking stick and use it to make a detailed search of the forest floor, instead of constantly bending over. 
What Time of Day Is Best for Mushroom Hunting?
10 pm -2 am and again between 11 am and 3 pm are the best time for mushroom hunting. 
Mushrooms appear frequently during the day when the sun reaches its zenith. Professional mushroom hunters try to make the best harvest by making a schedule of this timing beforehand.
However, mushrooms also flourish at night when there is more moisture in the air. Which time slot is best for you is according to personal preference.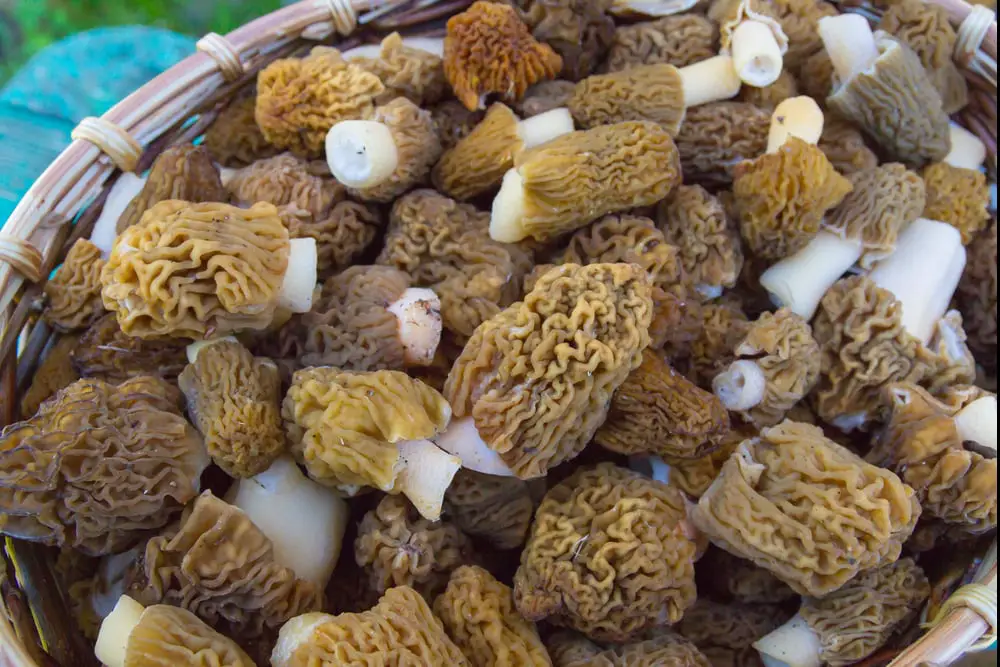 Can You Hunt Morels After Rain?
Rain is one of the two most important aspects when hunting for morel mushrooms. Another is humidity. 
Morels begin to appear within an average of 1 day after heavy rain. Professional morel collectors know this, so they constantly make predictions by looking at weather reports. 
Morels like to live in climatic conditions with heavy rain and humidity, in short, you can find plenty of morels after the rain.
Can You Hunt Morels in The Same Place Every Year?
You can normally find morels several seasons in a row. But if the area is starting to dry out or there is an extreme weather change like a flood or a drought, they probably won't return to that spot.
Morels spawn in the same areas because that is where their spores are released. Theoretically, there is nothing stopping morels from growing in the same spots year after year, but due to their sensitivity, they can stop growing if the smallest climatic change occurs or the soils stop receiving nourishment.
If the soil is not productive and drought occurs, the mycelium cannot complete its development and the morel population there decreases.
How Long Do Morels Last After Hunting?
After hunting morels, you need to consume them within 3-4 days on average. After this, the morels will begin to deteriorate.
If you wish, you can put the morels in a container and store them in the refrigerator. The shelf life of morels in the refrigerator is about one week.