Are you ready to sell your garden tractor? This is an operation that you will need to work through carefully. Your goal will naturally be to get the best possible return on your initial investment. You want to make sure that you get as close back for your tractor as the amount that you paid for it. This will be the best way to avoid a loss.
To do this, it's a good idea to check the web for sites where garden tractors are bought and sold on a day to day basis. There are plenty of these places on the web. Sites like Craigslist and E-bay see a great deal of action in this regard. These are the places where the majority of shoppers go to look so it makes sense to start here.
What Is My Garden Tractor Worth?
Used garden tractors sell for as little as $300 up to $3,000. This range is based off current ads on Craigslist and Ebay from around the United States focusing on major cities in the North, South, West, and Midwest. The South appears to be the best market for selling a used garden tractor for top dollar.
Garden tractors in the North tend to sell for between $300 for a well used smaller model to up to $2,500 for a fairly new larger model. The exact price you can sell your own tractor for will depend on the area you are offering it in. Checking sites like Craigslist in the Northeast will give you a fairly accurate range of prices to draw on.
In the South, you can expect to sell your garden tractor for anywhere from $400 to $3,000. Again, the amount of money you can reasonably expect to get for your tractor will depend on a number of factors. These include size, age, degree of use, extra features, and its general condition. This may be the best market for a seller.
In the West, you can usually expect a little more for a garden tractor in good condition. The price you can expect a buyer to pay can range from $350 to $3,000. This has a lot to do with basic inflation in this area. However, the interior of the state tends to offer better deals for sellers than the coastal and more urban areas.
In the Midwest, prices for garden tractors tend to range between $300 and $2,500. This is an area where basic lawn care is supplemented by a great deal of snow maintenance in the winter season. If you can offer a snow blower with your tractor, you'll stand the best chance of selling for a profit.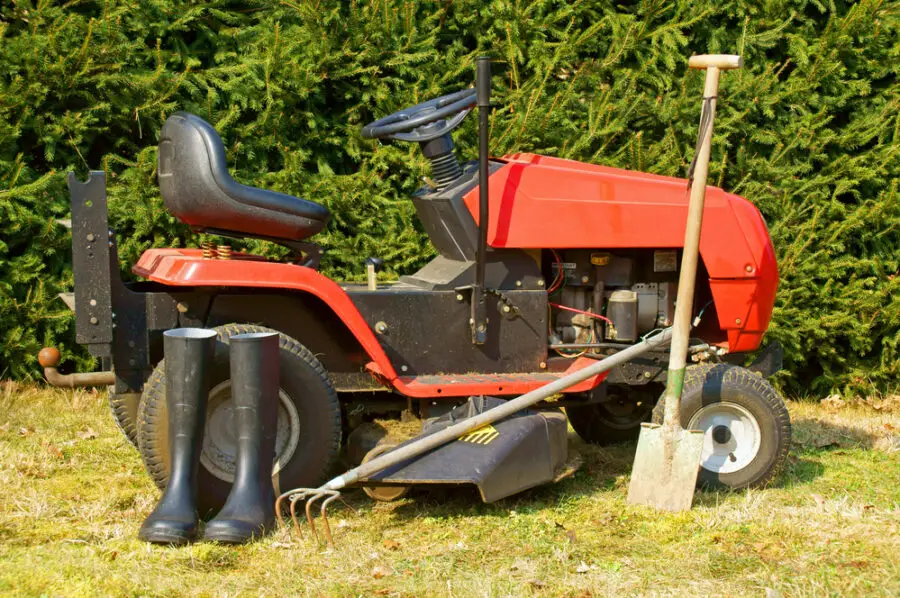 How To Use Craigslist To Determine Value
There are a number of methods that you can make use of in order to determine the present market value of your garden tractor. You can use sites such as Craigslist to reach a pretty accurate appraisal of just how much your tractor will sell for. There are a few basic methods you can make use of in order to arrive at a reasonable figure.
Calculate the amount of wear that the engine has seen. If it's still in fighting trim after a few thousand hours or use, you can count yourself a good owner. This and the actual age of the tractor will be the biggest factors in getting a good deal on a sale. Your buyer will want a fairly recent model that they can easily get parts for.
Another key factor will be appearance. You want to make sure that your garden tractor performs well and also looks good. If it's been a while since you gave it a good cleaning, now is definitely the time. You want to be able to take good photos of a model that is clean and efficient looking. This will help you sell it much faster.
Once you have your model in good shape, you can take a few photos and write a description for it. The rules for posting to Craigslist are quite straightforward. Make an account there and leave your contact info. If the price you advertise is in line with general expectations, you should start to get replies in a very short time.
How To Use E-bay To Determine Value
The general methods for determining the value of your garden tractor for sale on E-bay are nearly the same as on Craigslist. You may need to localize your sale a bit more on this site than on Craigslist. This is because E-bay is a much more global site. You don't want to have to take on the expense of shipping a tractor to a far off area.
The criteria for determining the value of your tractor are more or less the same. You will need to take into account the age, mileage, and general condition of your garden tractor. It's a good idea to clean it up to make it look as presentable as possible. If there are repairs to be made, be sure to make them so as to add a bit of value.
The general procedure for selling your garden tractor on E-bay is simple enough. Take some good photos of your tractor. You can also link your ad to a video on YouTube if you want to give an even more detailed showcase. Write some good descriptive content and post your ad to E-bay. Make sure your location is posted to avoid useless queries.
Other Places Where Used Garden Tractors Are Sold
There are a great many other places on the web where you can go to buy or sell a new or used garden tractor. If you are selling your tractor, you may wish to have a look at sites such as Agriaffaires, Machinefinder, Tractorhouse, and many others. A quick Google search will reveal a wide range of places where you can advertise your tractor.
It will be up to you to do all in your power to raise the appeal of your tractor. Your best bet is to add a clear description of what you are selling. Back this up with plenty of descriptive photos. Check the site to see what the general range of prices are. This will help you avoid pricing your tractor too high to attract interest from viewers.