Tired of shoveling snow? Have a garden tractor or mower and dream of adding a snowblower? Would you rather ride around blowing snow rather than walking behind?
If you answered yes to any of these questions a snowblower/garden tractor combo might be right for you. This article will discuss the pros and cons of getting a snowblower attachment. Plus we'll review some of the best options out there.
Scan below to find out if a snowblower attachment is right for you.
The 5 Best Garden Tractor Combos For Snow Blowing
Note: If you click some of the links in this article we may earn a small commission at no additional cost to you.
Also, note that it's difficult to get both the tractor and the snowblower together online. We recommend you find a local supplier of Kubota or high-end John Deere or Husqvarna garden tractors and you confirm with the dealer that they can handle these attachments.
What follows below is a list of the snowblower attachments themselves.
Since the Cub Cadet XT2 LX42 is a beast powered by a 679cc motor, it can power through some pretty deep snowdrifts. Combined with a 42in. tri-stage tractor mounts snow blower, it's pretty much unstoppable even when the snow starts to combine with rain. As you approach the melting point, the tough serrated steel auger will still be able to eat through the watery mixture you're going to be dealing with at those temperatures. You could technically fit the tri-stage on XT1 tractors as well if you're working with a smaller area.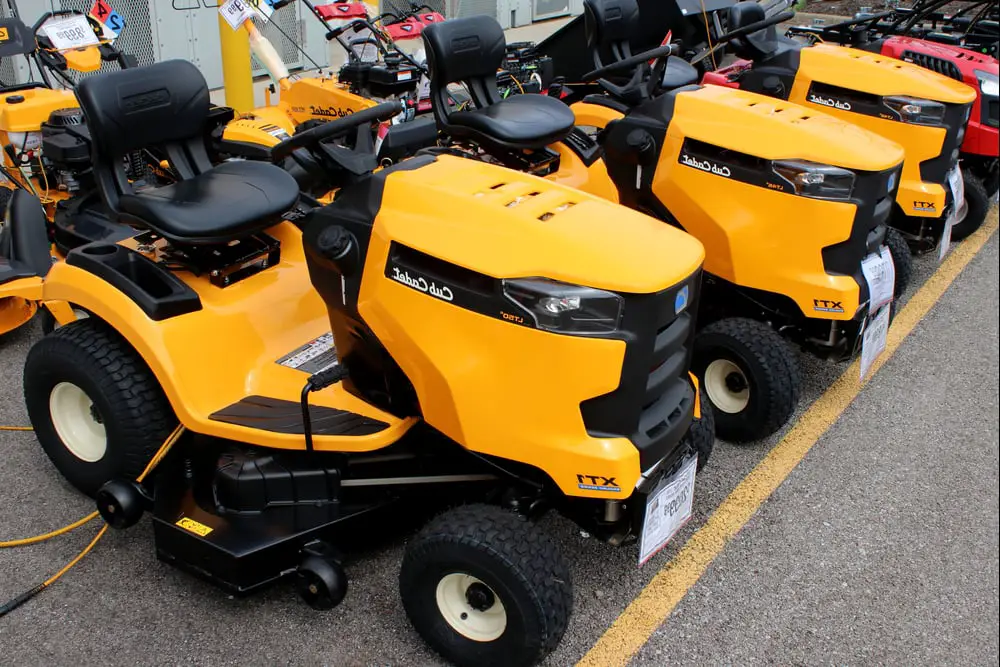 Pros
The steering wheel has a soft grip covering which keeps it from freezing in the cold
Can throw 50 percent more snow than a traditional dual-stage auger
The driver is free to rotate the chute from the tractor seat without stopping
Can clear a 42in. wide path in minutes
Cons
Only throws snow around 35ft. from the front
It might be slower than some other options
Works best when fitted with tire chains
You might be looking at the Series 100 tractor combo and thinking that it's an underpowered lawn tractor, but that's just because of the marketing! John Deere's suits like to call it a large lawnmower in marketing literature, but that's just to promote its relatively diminutive size rather than because it actually is one.
Since the snowblower module is made at the same factor that produces the Series 100 tractor, you can be sure that it's going to fit well and hold on even if you're moving heavy wet snow.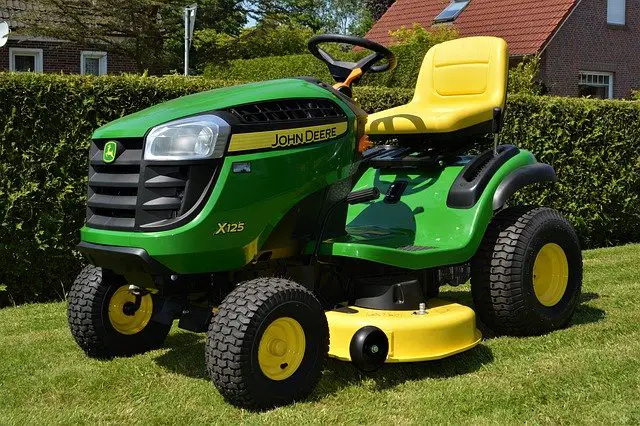 Pros
Can throw snow up to 50ft. away from your position
Works well with tire chains or weights, so it's great for unfinished driveways
Simple control level makes it easy to raise and lower the second stage blower
The chute is made from HDPE plastic, so it won't rust
Cons
Auger may start to rust
Throws gravel if used on driveways with pebbles
The oil pan on the tractor comes off with no tools, so it might start to sag in really cold weather
Very few snow throwing systems offer as much raw horsepower as this particular setup, which is essentially the equivalent of a commercial snowblower attached to an actual farming tractor. Since GT2200 aren't available in all markets, you could also substitute a Cub Cadet 1500 or a Troy-Bilt model year 2007 or newer and still get similar numbers. No matter what you mount it to, though, it should clear a 42in. the wide path quickly with a very simple crank rotating chute that's easy to maintain and surprisingly reliable.
Pros
Drivers can throw snow in a 220° arc around their tractor
Can power throw snow that's almost two feet high without slowing down
Mechanically simple design doesn't break down often, so you won't have to do as much maintenance
Lets you rotate and control the auger entirely from the seat without stopping the motor
Cons
Smaller than some other models
Finding a compatible garden tractor may be difficult for non-farmers
Users might need to fit chains to their wheels to give them enough traction
Arnold 19A40024OEM MTD Genuine Parts 3-Stage Snow Thrower, 42"
Compatible with Troy-Bilt Super Bronco XP riding lawn mower 2015 and newer with innovative three-stage technology that clears snow up to 25-Percent faster than a traditional two-stage snow thrower
High volume accelerator cuts and chops snow to quickly and easily remove 18-Inch of snow
Robust steel high arch chute provides optimal snow throwing; includes adjustable replaceable skid shoes and scraper blade
490-900-M059 suitcase weight also recommended to function correctly
1,100 service dealers coast to coast with bilingual customer support and easy-to-find replacement parts
With a high-volume built-in accelerator, Arnold's snow thrower module works much faster than most of the competition. Despite all that speed, it's completely made from genuine steel that should be able to hold up against the worst of conditions. This makes the two a great pick for those who do professional snow removal. If you have a larger driveway or have to manage a ton of property, then you'll especially love the arc of the throwing chute. It's designed to throw snow at an optimal angle, which can dramatically reduce the amount of time you spend out in the cold.
Pros
Finishes a driveway in ¾ of the time you'd need with a dual-stage unit
Rips through up to 1½ft. of snow
Auger is strong enough to rip through ice and even bits of rocks that might end up in the snow
Chute is made from genuine steel, so it can take a beating
Cons
Can do serious damage if mishandled
Not as tall as some other units, so a few feet of snow could clog it
5. Husqvarna 42″ Two-Stage Tractor Mount Snow Blower with an LT/GT Vehicle
Husqvarna makes several LT and GT series tractors, which are ideal options even for those who have to work in relatively commercial settings. When paired with their two-stage tractor mount snow blowers, these become serviceable snow throwers that are on par with many purpose-built professional-grade machines. Some people might not need this much power, but it's an excellent choice if you're managing a larger property that receives quite a bit of heavier snow. It's also probably one of the best combos for places that end up getting other substances mixed in with the snow, which can throw off many other pieces of snow-blowing equipment.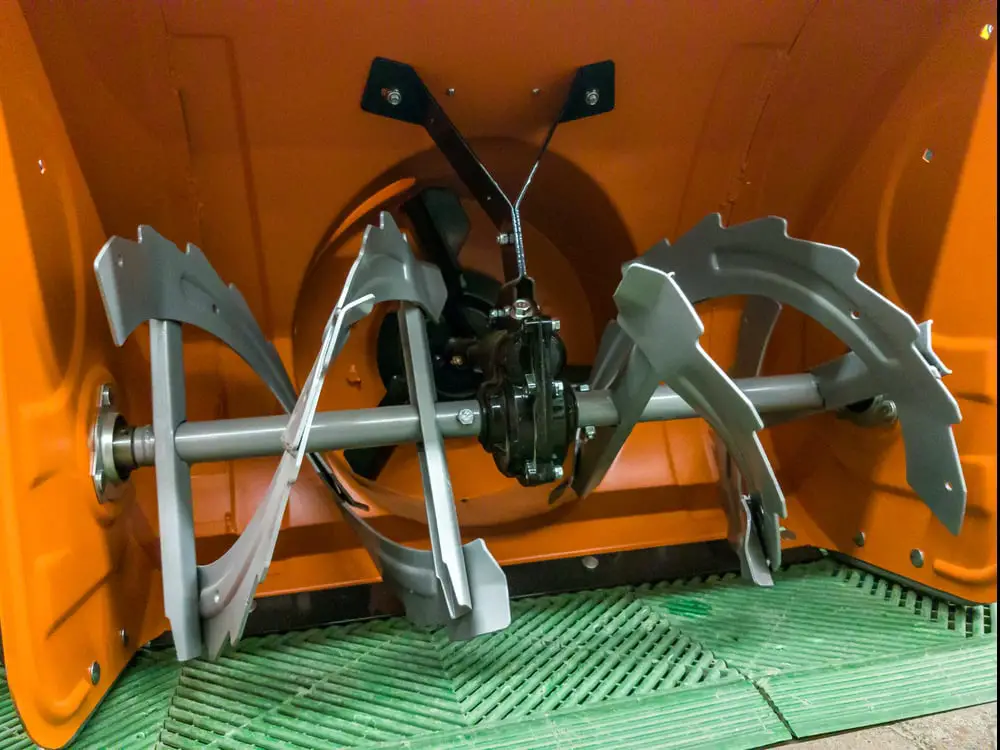 Pros
Huge input augers can clear out a path up to a foot wide, cutting your blowing time by up to half
Wear plate is easily swapped out if it fails
Side shoes are strong enough to cut through snow that's become mixed with asphalt if at all necessary
Cons
The tractor may be too small for some uses
Hood height is slightly high, which could obstruct your view
What is a Combo Snowblower/Garden Tractor?
A snowblower/garden tractor combos is an attachment to a lawn or garden tractor that blows snow.
These attachments are pretty heavy-duty and can move wide areas of snow in record time.
They're heaving, large, and not always the best option. Attaching one to the wrong tractor could kill your tractor.
Before you purchase make sure your current lawn mower or garden tractor is strong enough to handle the extra horsepower needed to move one of these things around.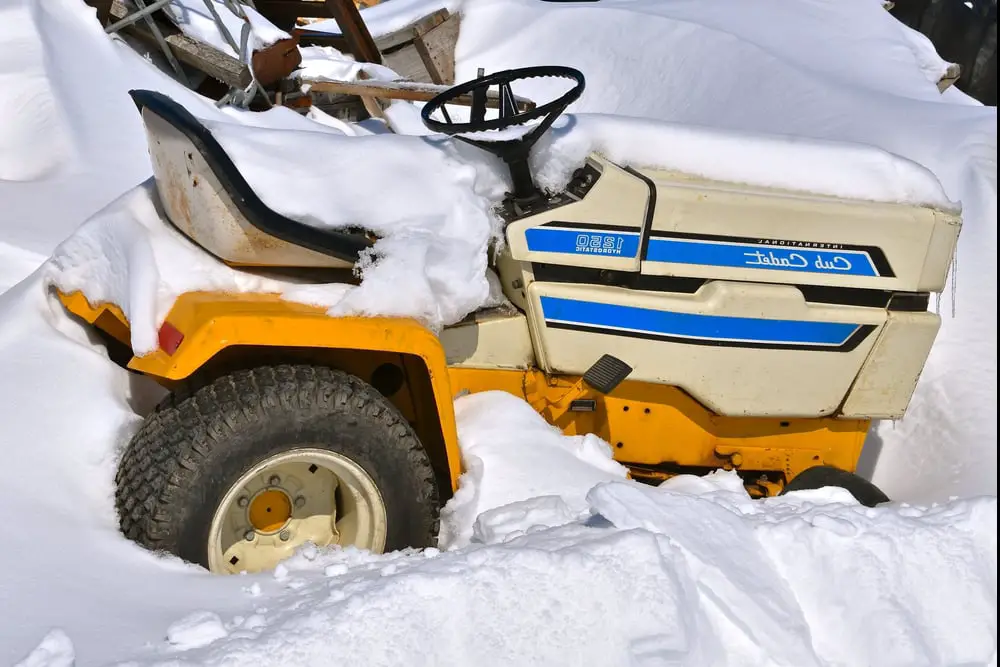 How Does A Snow Blower Attachment Work?
Snowblower attachments connect to the front of your lawn or garden tractor. They're powered by your tractor's engine. That's why you must confirm your tractor is powerful enough to handle the extra HP needed.
Does My Mower Blow? Things to Look For in a Snow Blowing Lawn Mower
Before getting a snowblower check that your existing lawn mower or tractor has what it takes:
Is your mower 4 wheel drive? If yes, you should have the power to push snow.
Do you have chains to add traction?
Is it at least 10 HP?
If you kill the engine do you care? Maybe you just wanted an excuse to buy something better.
Do you have a large Kubota Garden Tractor or Larger John Deere Garden Tractor (starting new price ~$6000)? If yes you might be good to go. Confirm the make and model and call the manufacturer to confirm.
Are you comfortable with light mechanical work? You have to attach the snow blower in winter and take it off in spring. It's a bit more work than changing a headlight.
Are you patient? Lower HP mowers can do this work buy you have to go slower. The slower you go the longer it lasts but maybe it would have been better to just buy a standalone snowblower.
The next two sections cover when it's better to get a separate snow blower vs when it's a good idea to get an attachment for your current tractor/mower.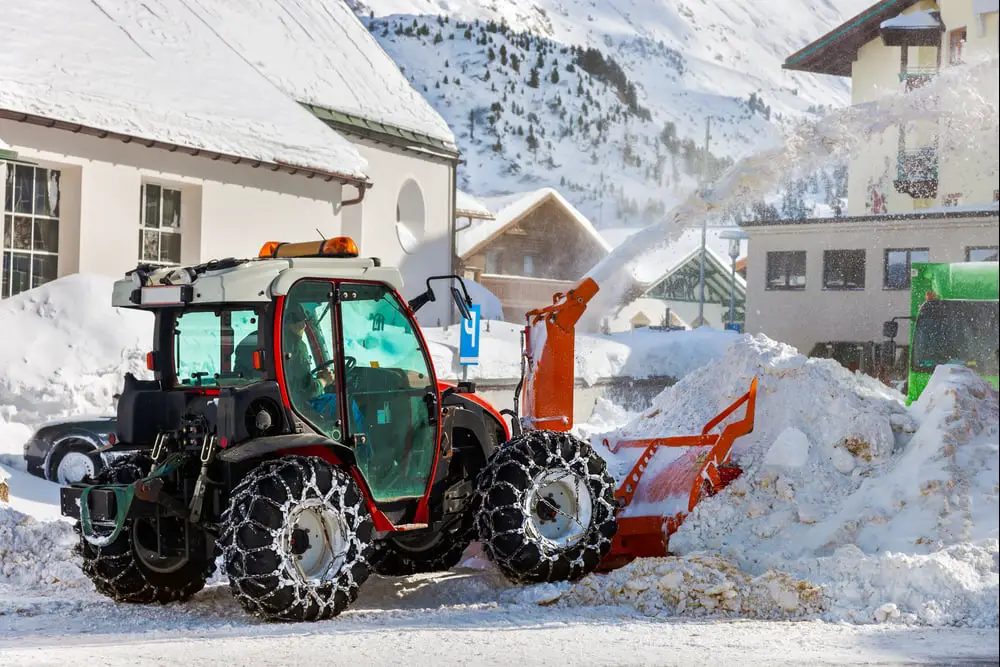 5 Reasons To Buy A Separate Snow Blower
Separate Snowblowers are Cheaper  – Separate snow blowers are a few hundred dollars less than snowblower attachments
Your Lawn Mower Will Last Longer – Let your mower mow and your snowblower blow. Both will last longer saving you money.
Easier To Store – Separate snow blowers are smaller than snowblower attachments. Ideally, you want to keep the snowblower attached all winter. Do you have enough room?
Easier To Work Around Small Spaces – Separate snow blowers are compact. You can easily squeeze them between parked cars or down narrow walkways from the driveway to the front door. Snowblower tractor attachments are wide and best suited for long, wide driveways.
You Hate Working on Your Mower – Every fall you'll need to not only attach the blower to the front of your tractor, but you'll also need to connect it to the drive train. Then each spring you'll need to undo this work. Not impossible but not much fun unless you enjoy this kind of work.
4 Times When A Snow Blower Attachment Wins
You Have Long Winters with Lots of Snow – Are your winters long and come with lots of deep snow? You may enjoy riding while blowing out your snow rather than walking along.
You Have A Long, Wide Driveway – Why walk when you can just ride? If your driveway is wide and you have a powerful high-end mower or tractor you'll save time and energy getting a snowblower attachment.
You Have A High-End Garden Tractor With Enough Power – See section above. If you have a powerful tractor or mower then you probably should have a snowblower attachment already! Unless of course, you don't get much snow.
You Have Enough Storage Space To Store The Tractor With Snowblower Attached – If you don't have space we don't recommend you get the attachment. It's no quick work to get this on your tractor. You'll want to keep it on all winter.
Our top pick…
John Deere 44-inch Snow Blower for 100 Series Tractor - 7005M
Works well in all snow conditions and is suited for snow removal around recreational parks, industrial parks, and other applications where snow must be moved greater distances
Ideal for home and estate owners in heavy snow regions
More effective than single-stage snow throwers when operating in wet, heavy snow and deep snow conditions; the the low speed auger sizes crusted material as it moves snow toward the 2nd stage blower
Provides consistent snow placement in variable snow conditions because the high-speed blower gives the discharged snow consistent velocity - even in very light clean-up volumes
Hi, I'm John Stephens, chief editor and writer for Totalgardener.com. I've been gardening and raising animals for over 15 years starting with a small backyard plot in Northern Virginia where I grew corn, potatoes, squash, and using a high mulch technique called the Ruth Stout Method. I also raised ducks and small mammals for meat and eggs in a movable pen similar to the ones used by Joel Salatin. I later moved to Colorado where I experimented with growing greens using aquaponics inside. I eventually added a microgreens setup and home sprouting operation. I'm excited to share everything I've learned plus more from the other local gardening and animal raising experts I know.